After taking part in ISANS's Bridge to Work: Long-Term Care Aide pilot program, Ruth is now pursuing her Continuing Care Assistants (CCA) certificate. On track to get this certificate next year, Ruth then wants to go on to become a nurse.
In Nigeria, Ruth worked as an early childhood educator, but her childhood dream was to work in healthcare. This dream was only further cemented when Ruth's grandma fell ill, and she and her family members would take turns caring for her.
"The bond we shared during that last moment of her life, you know, I felt fulfilled that I was able to give care to her before she passed," says Ruth. After her grandmother's passing, Ruth started volunteering in the healthcare field while still in Nigeria.
Ruth and her family came to Nova Scotia at the beginning of 2021. She says moving to Nova Scotia is one of the best decisions she has ever made.
She found the ISANS Bridge to Work: Long-Term Care Aide program enjoyable, and it encouraged her to get her CCA certificate. The program started online and had about 15 participants. This then led to on-the-job training with the Northwood continuing care organization.
"We kind of formed a special bond," says Ruth of her and her classmates. "We had never met each other before. It had always been online, so on the first day when we met each other at the Dartmouth Northwood office, it was like a big reunion."
It was Ruth's idea to create a group chat so she and her classmates could have a space to share ideas and talk about class. With the program now over, Ruth says they still use the group chat to keep in touch.
She says the Northwood training module went well; everything they were doing online they got to see and do practically. This hands-on experience made it easy to jump right into the workplace.
Ruth is now working three different jobs in the healthcare field while she works toward her CCA certificate. She says the biggest challenge is balancing these things, plus being a mother, and finding personal time for herself.
"I love working in healthcare. Many people say it is hard work, I know it is hard work, but for me, giving back to the elderly, it is fulfilling," says Ruth.
The Bridge to Work: Long-Term Care Aide program is designed for ISANS clients who are interested in health care and would like to help older adults, in particular. The program offers:
An LTCA-specific communications course (12 weeks)
Participation in employment-readiness workshops (3 weeks)
On-the-job paid training in the Northwood Care Aid (NCA) program (12 weeks)
Opportunity for further education to become a certified Continuing Care Assistant (CCA)
To learn more, visit the Long-Term Care Aide program page on our website.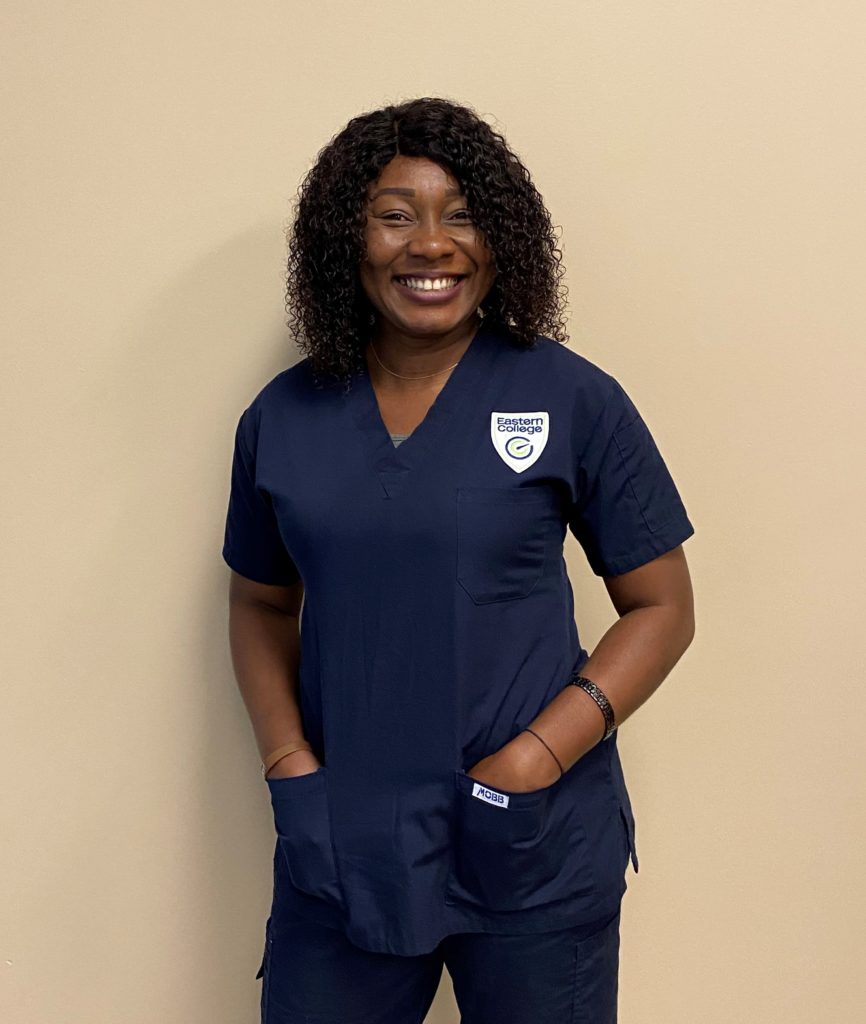 "I love working in healthcare. Many people say it is hard work, I know it is hard work, but for me, giving back to the elderly, it is fulfilling,"
Ruth Nkemjika Onyeajam: A passion for healthcare