Support the ISANS team in the Scotiabank Blue Nose Marathon Charity Challenge
On your mark. Get set. Go! ISANS is participating in this year's Blue Nose Marathon Scotiabank Charity Challenge, May 18-20. This year our team is running for the ISANS Refugee Emergency Fund and want to raise $1,500. Help us reach our goal by donating.
What is the Blue Nose Marathon?
Established in 2004, the Scotiabank Blue Nose Marathon happens annually during Victoria Day weekend. With six running events (5KM, 10KM, half marathon, full marathon, marathon team relay, youth run – 4KM and 2KM) and an Active Living Expo that spans two days, there are events for everyone. Teams fundraise for local charities, and have raised more than half a million dollars since its inception.
What is the Refugee Emergency Fund?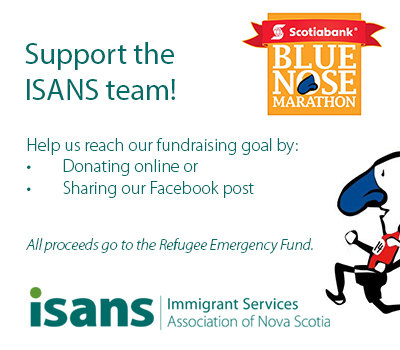 The Refugee Emergency Fund (REF) is an ISANS resource that provides emergency supplies and services to people in need. These services include emergency food, diapers, medication, mobility equipment, emergency transportation, etc.
If you or someone you know are interested in supporting ISANS in their Charity Challenge, please click here. Remember every dollar counts!