ISANS Immigrant Entrepreneurship Awards 2022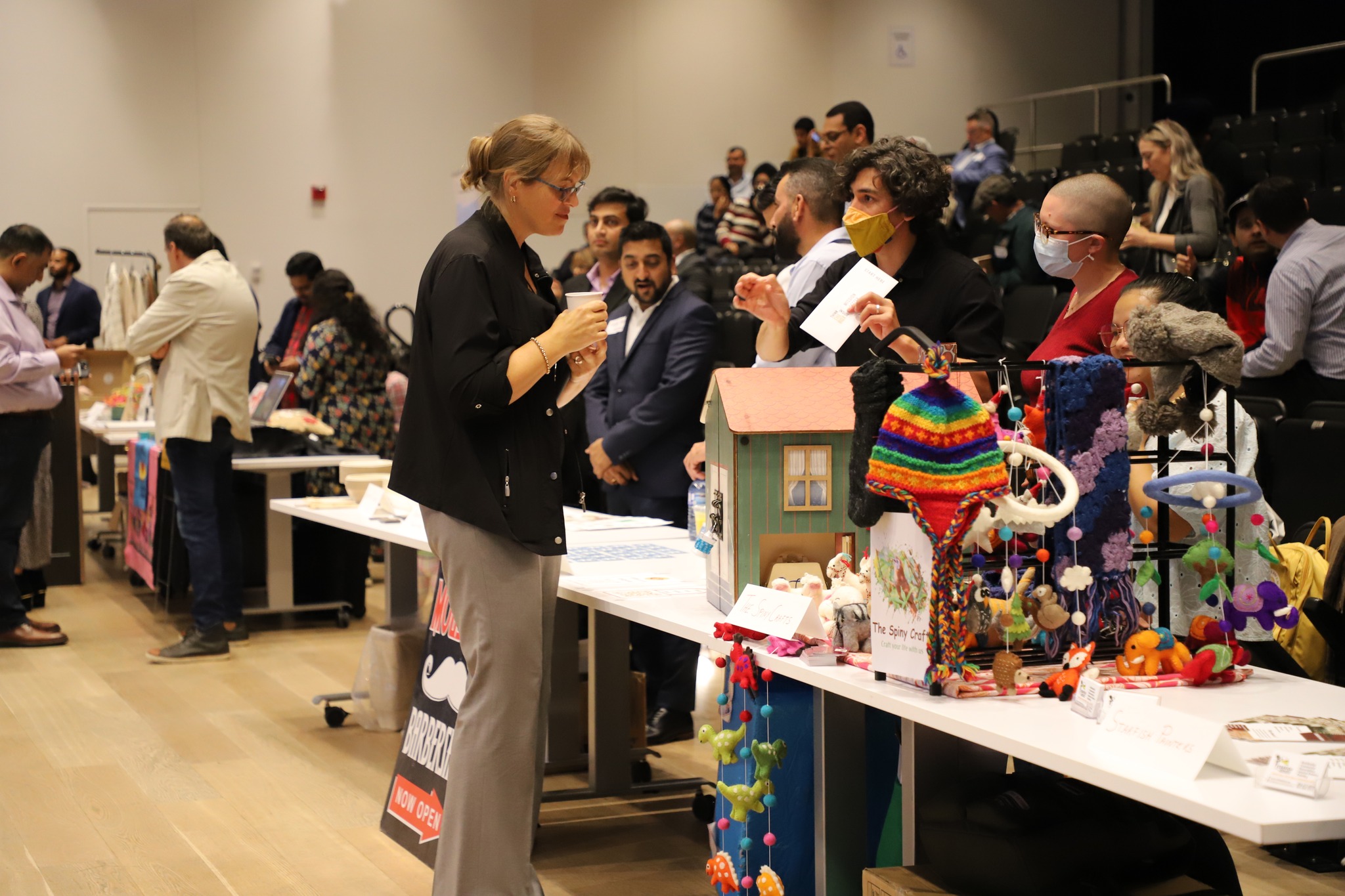 On October 18, we were proud to host our third annual ISANS Immigrant Entrepreneurship Awards at Halifax Central Library's Paul O'Regan Hall.
We want to thank everyone who came out to support the positive impact immigrant business have on the prospering Nova Scotia economy. We also thank our sponsors, every business that was nominated, and all of our winners.
Every year we witness new immigrants starting, growing, and expanding their businesses, who become an example to others and contribute to the community that has supported them. It is these wonderful people and businesses who give us a reason to celebrate.
This year, we received over 50 nominations for 5 different categories, and like every year before, we were amazed by the submissions and the stories these immigrant entrepreneurs have to tell.
We also added a special "Exceptional Entrepreneurial Achievement" award to this year's event, which recognizes an immigrant business distinguished by its leadership and the inspiration it provides for other immigrant and non-immigrant businesses, and that shares ISANS' vision of creating a community where all can belong and grow.
A huge congratulations to this year's award recipients, and to all immigrant entrepreneurs across the province!
Innovative Business of the Year:
Sparrow Acoustics Inc
Owned by Nadia Ivanova, Sparrow Acoustics has a team made up of engineers, doctors, and product people that have a shared desire to deliver disease detection at scale.
The business aims to provide a simple and inexpensive way for patients to self-monitor for signs of cardiac and pulmonary disease using a mobile phone. This product combines the abilities of a stethoscope with novel computer visualization, proprietary acoustic algorithms, and artificial intelligence (AI). Sparrow Acoustics Inc was founded in 2019.
Immigrant Women Entrepreneurship Network (IWEN) Entrepreneur of the Year:
Pinalben Nakrani
Pinalben Nakrani is the woman behind Feathers Brow & Hair Studio. Located in Fairview, Halifax, Feathers Brow & Hair Studio has been offering brow services, eyelash services, waxing, and hair care since the spring of this year.
At Nakrani's studio, they strive to give their clients quick, efficient, affordable beauty services. They have a team of highly qualified licensed cosmetologists and hair removal specialists that provide hygienic and virtually pain-free waxing in a comfortable, clean, and relaxing environment.
Small Business of the Year
(established for over two years):
Eureka Technologies Inc
A local source for 3D printers and filament in HRM, Eureka Technologies Inc aims to help its customers find their "Eureka!" moment. This Sackville-based business helps people get into 3D printing and  bring creative ideas to life. They also offer laser cutting, CNC routing, commercial printing services, promotional items, hobby electronics components, and more.
In 2019, founder Mohammed Issa accepted the award for Best New Business from the Sackville Business Association, and in 2020 he was awarded Most Inspiring Immigrant from My East Coast Experience.
Small Business of the Year
(established fewer than two years):
Kitchen Spot Ltd
Kitchen Spot is made up of a small yet mighty team that offers home improvement services for the kitchen as well as vanities, closets, doors and trim, and custom products. Their cabinets are locally made in Dartmouth, and this fall they opened a second location in Ottawa.
An Egyptian-born businessman, Mustafa Mohamed is the owner of Kitchen Spot Ltd. After immigrating to Canada, he found there was a need for a kitchen cabinet company and established Kitchen Spot Ltd. in 2021.
Sustainable Business of the Year:
Greenii Inc
Greenii Inc collects unused or gently used newsprints and flyers from local libraries and printers. They then clean the newspapers and flyers without using any chemicals or bleaching and hand-make paper bags, wine bags, and gift bags.
Greenii Inc focuses on hiring newcomers/immigrant women, saving trees, reducing carbon emissions, and running their business without using chemicals, de-inking practices, or bleaching.
Exceptional Entrepreneurial Achievement:
Peace by Chocolate
The Hadhad family have been in the chocolate business for decades, but their entrepreneurial journey with Peace by Chocolate is an extraordinary example of resilience in the face of hardship.
After their family factory was destroyed in the conflict in Syria, they came to Canada to start anew. To our great delight, their enterprise has flourished, and they now share their chocolate delicacies – passionately combined with a blend of Syrian fillings and ingredients – with people across Nova Scotia, Canada, and the world.