Meet Our New Board Members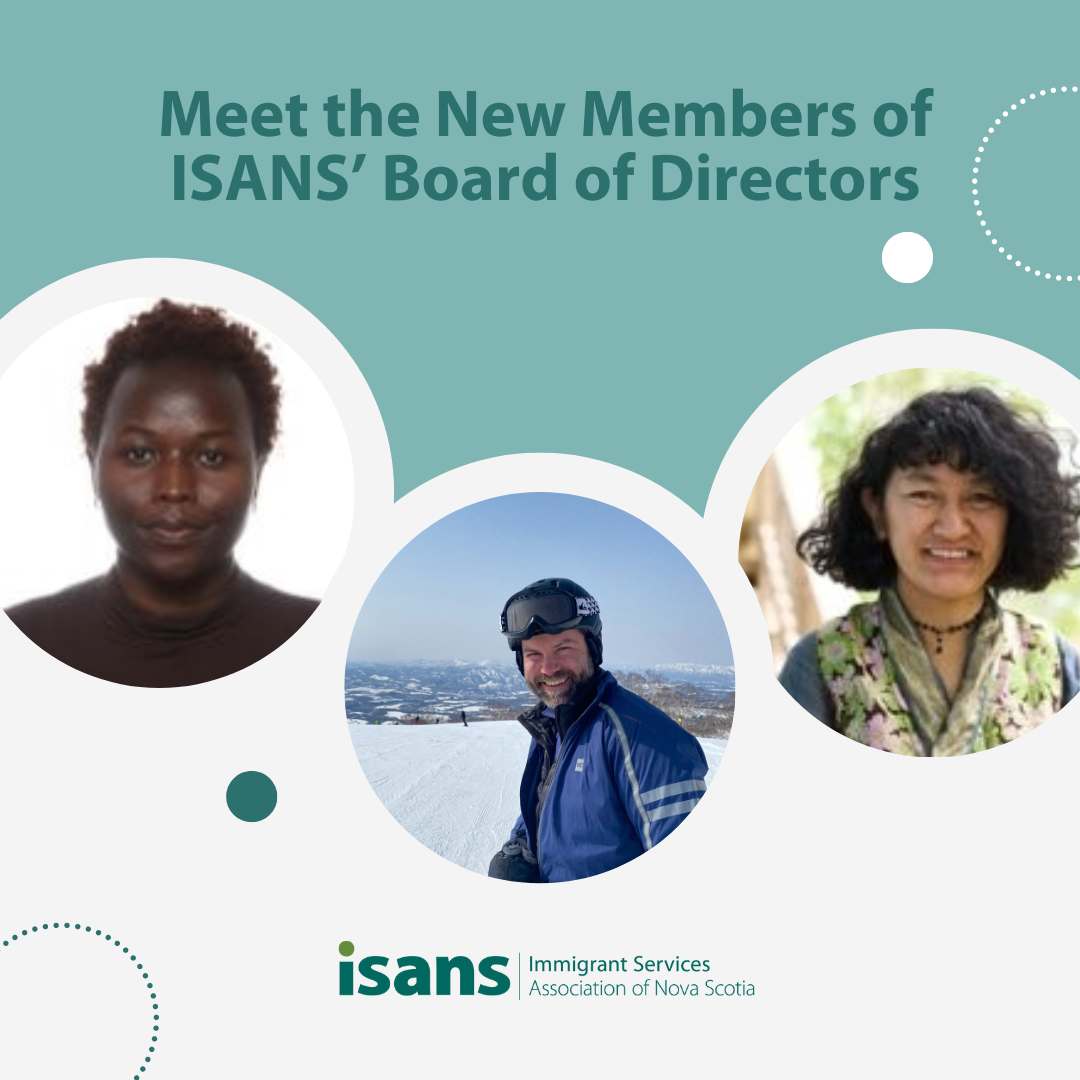 We're pleased to introduce to you the newest members of ISANS' Board of Directors, Agnes Lomoro, Tashi Yangtso, and Stefan Leslie!
ISANS' Board of Directors are an important part of who we are. Comprised of leaders in the business, academic, pubic-service, and non-profit sectors, our board offers us the strategic direction we need to ensure we're always able to achieve our goals and support immigrants in the best and most effective ways possible. Members are elected yearly for two-year terms, up to three terms, ensuring an equal balance of stability and fresh perspectives every year.
Membership on ISANS board is voluntary, which means each elected member gives freely of their time and expertise to support a mission and vision they truly believe in. Our board members are forward-thinking, attuned to trends in the settlement sector, and invested in the ways ISANS makes a difference in our community and province through immigrant settlement and integration.
To get to know our new board members, we asked them a few questions about their experience and aspirations.
We're so pleased to have you on our board! Can you tell us a little about yourself and what you currently do professionally?
Agnes: My name is Agnes Mude Lomoro. I am originally from South Sudan and immigrated to Canada in 2021. Professionally, I work as a Registered Nurse with Nova Scotia Health Authority.
Tashi: My name is Tashi Yangtso. I am a Tibetan and grew up in India as a political refugee. My education background is in psychology, gerontology and social work. Currently, I am the Team Lead, Immigrant Health and Disability Program at ISANS.
Stefan: I'm very pleased to be here! I'm the CEO of Research Nova Scotia, an organization that finds and shapes research in Nova Scotia that will contribute to improving society.
What attracted you to apply for membership on ISANS' board?
Agnes: As an immigrant myself, I understand the challenges newcomers face when settling in a new country. ISANS' dedication to empowering immigrants and creating an inclusive community deeply resonates with me, and I wanted to be part of an organization that makes a meaningful impact in immigrants' lives.
Tashi: I think representation matters, and I would like to think that I bring a unique perspective because of my lived experiences of navigating cultures, languages, and identities along with my first-hand experience working with diverse clients and staffs.
Stefan: I was really impressed working with ISANS staff on an initiative with my daughter. I gained an appreciation for the quality of the work and the ISANS team, and I'd like to find a way to continue to help shape the work.
What do you hope to achieve during your tenure as an ISANS board member?
Agnes: During my tenure, I hope to support ISANS in further strengthening its services and programs. To contribute towards strategic planning, fostering partnerships, and ensuring that ISANS continues to be a leading settlement service agency in Atlantic Canada.
Tashi: To highlight two key issues: workload and compensation for staff. Generally, I am committed to provide honest input as a someone who works very closely with ISANS clients and staff.
Stefan: The huge increase in immigration to Nova Scotia is going to be challenging, and I would like to help this organization prepare for the future. As immigration changes, ISANS must be ready.
Why is it important to you to help immigrants build a future in Nova Scotia?
Agnes: Helping immigrants build a future in Nova Scotia is vital to fostering a diverse and a thriving community. Immigrants bring unique perspectives, skills, and contributions that enrich our society and economy. By providing them with the necessary support and resources, we create a more inclusive and vibrant Nova Scotia for everyone.
Tashi: Immigrants, like everyone else, come with all their hopes, dreams, and aspirations when they move to Nova Scotia, and supporting each other to build a future that represents and reflects this diversity is paramount.
Stefan: Immigrants to Nova Scotia deserve the support of a welcoming society. They do the hard work, so the least we can do is help them establish themselves and their families in their new home.
When you envision a community where all can belong and grow, what does it look like?
Agnes: I envision a community where all belong and grow to be one that celebrates diversity and embraces inclusivity and equity.
Tashi: Where equity, inclusivity and diversity are not just buzz words, but woven into every fabric of society and the systems that we navigate.
Stefan: I envision a community that goes beyond figuring out how to accommodate immigrants, to one that reflects their full diversity. This is about Nova Scotia continuing to change and adapt, and welcoming that future.