New Mural – Mi'kmaki, by Lorne Julien – Adorns the Walls of ISANS' Office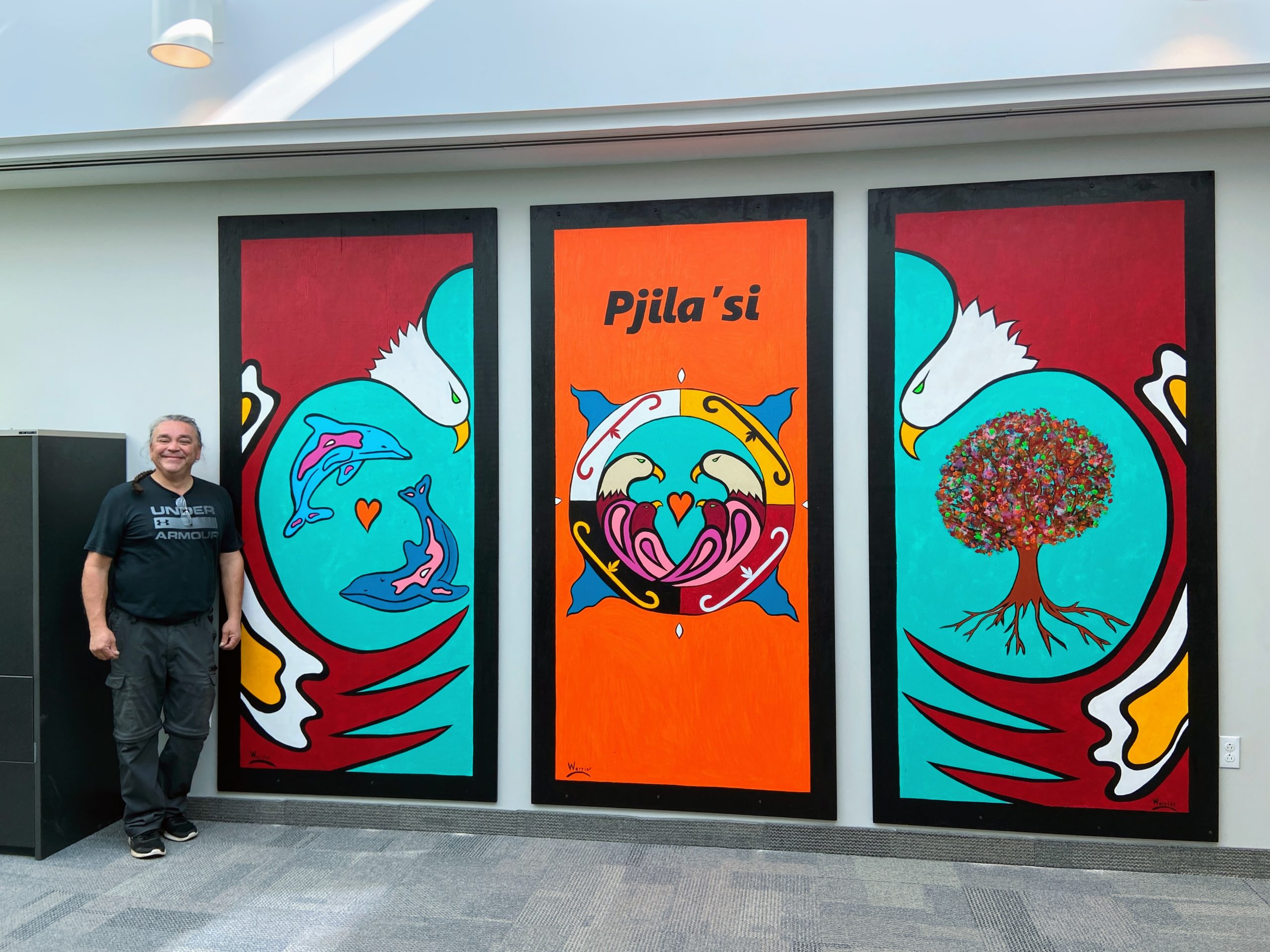 For Mi'kmaq History Month 2022, ISANS commissioned Mi'kmaw artist Lorne Alexander Julien to create murals for our Mumford office with the theme of "Welcome." We installed this painting, titled Mi'kmaki, just past our reception desk in our atrium. We're so excited that this art will welcome the immigrants we serve and engage them in meaningful conversations about Mi'kmaki, the unceded, ancestral land of the Mi'kmaq First Nations. Having this mural in ISANS' office will stand as a sign of our commitment to work with, honour, and create welcoming spaces for Indigenous people in Nova Scotia and beyond.
Artist Statement
The three murals express what Nova Scotia looks and feels like from Lorne's point of view as an Indigenous person. The centre piece is done in bright orange to honour the victims of residential schools, and the image displays hope for a future that embraces families and all cultures.
The eagle symbolizes love and protection.
The medicine wheel has many different meanings and teachings, and is part of many First Nations cultures. Lorne included the double curved design, which has been used  in Mi'kmaq crafts for a long time.
The two murals on either side feature the two very important elements that represent the natural world in Mi'kmaki: the oceans with the marine animals and our forests.
The three murals belong together because we cannot have one without the other.
Msit No'kmaq  ( Translates as "all my relations")
Artist bio
Lorne Alexander Julien is a proud Mi'kmaw artist and member of Millbrook First Nation, Nova Scotia, Mi'kmaki. He specializes in contemporary Indigenous acrylic paintings and murals. Although known primarily as a painter, he has diversified to other mediums such as stained glass and photography. His Mi'kmaw name is "Warrior on the Hill"  (Sma'knis), which was given to him in his youth when he learned about the spiritual way of his people.
He is a self-taught artist, who began his art as a young child. He specializes in rich, vibrant colours and believes simplicity is beautiful. Lorne wants to share his artwork, lifting people's spirits, with ideas taken from his visions and dreams.
Lorne creates murals in schools, institutions, and public spaces to create safe spaces that are inclusive and respectful, and that honour Canada's Indigenous Peoples. He believes that incorporating Indigenous art in public spaces is a simple act of reconciliation, moving forward in a spirit of mutual respect and understanding.
His artwork is a form of prayer; it provides healing for himself, and he would like to bring healing to the world. His intention is to inspire hope and balance within the universe.
ISANS' webpage dedicated to Truth and Reconciliation
As part of our commitment to equity, truth, and reconciliation, throughout the year, we share resources on Mi'kmaq culture and heritage that are helpful for both immigrants and long-established Nova Scotians. These resources are accompanied by the beautiful artwork of Mi'kmaq artists.
Webpage: isans.ca/equity-diversity-inclusion/truth-and-reconciliation